Randalstown Hoops
MY pal Jimmy Johnstone by BOBBY LENNOX Playing For Celtic No.5 by Rodger Baillie I DON'T suppose there is any player in Scottish football who is more controversial than Jimmy Johnstone.
MY pal Jimmy Johnstone by BOBBY LENNOX Playing For Celtic No.5 by Rodger Baillie I DON'T suppose there is any player in Scottish football who is more controversial than Jimmy Johnstone. Some people idolise him, some are exasperated by him.I know him not just as Jimmy Johnstone who has been a teammate of mine for over ten years . . . but as the person who has been my best friend at Celtic Park for all that time.
What makes him tick, and what are the flaws that sometimes afflict the play of the little red-headed right winger? I think you have to start by saying that he's like any great player-and to me wee Jimmy is a great player-and he's a bit temperamental That touch of temperament is something that goes with any great player, as much a part of their equipment as their boot laces.
Yet, more than any other player in Scotland, I believe he gets more pressure put on him from opposing players. And to me he has one skill above all his others . . . and it's the one which has probably let him keep playing football.
That 13 his brilliant ability to ride a tackle. People say George Best is a stronger player, and they point out how he can tackle better than other wingers. But defenders whack Jimmy at times in tackles, and attempted tackles, and he just bounces back.
I reckon the fact that he does not get many injuries considering the sort of treatment he receives is a massive tribute to his strength. And he's not a player who fakes injuries-something I cannot stand in football-for when he's down he wants back up to get on with the game. I have three vivid memories of Johnstone at his best. One of them was against Red Star of Belgrade in a European Cup game at Parkhead when we beat them 5-1, and he was truly fantastic.
The other was a league game against Dundee United at Park head when we scored seven against them, and as I was a spectator that night I could sit back in a stand seat and really appreciate him. The third occasion was against Real Madrid in Spain for Alfredo Di Stefano's benefit match, which was played just after we had won the European Cup.
I have a mental picture forever etched in my mind of wee Jimmy standing with the ball about seven yards from a defender, and baffling him by just dropping his shoulder. It's a trick of his-I swear he does it even if you are walking down the street with him-and that night the crowd in the Bernabeau Stadium literally rose on their feet to applaud him. Crowd atmosphere affects the wee man. If it's a big game I think he pulls out an extra effort to provide entertainment.
His value to his teammates is that if you are in a tight-spot you can always give it to Jimmy.
I suppose the players are like the fans, we feel that if he has the ball something is going to happen. I know there has often been controversy between Jimmy and the club, but that is not a matter which concerns me here. l am speaking of him as a friend, and I consider him a person who would do anything to help his friends.
The fact is that Jimmy and I grew up together, along with players such as Tommy Gemmell and Bobby Murdoch, and we played together for a few seasons in the reserve side.
I was shown a 1961 newspaper cutting recently which named three bright youngsters who were provisionally signed by Celtic, and from whom the club were expecting great things . . . they were Robert Lennox of Ardeer Rec, Tom Gemmell of Coltness United and James Johnstone of Blantyre Celtic.
Actually our spell in the reserve team was like an apprenticeship. Boys now tend to come into teams straight from school in some sides. This does not happen at Celtic, but it does with other clubs, and I think it puts an added strain on the kids. Both Jimmy and myself are pretty keen followers of the pops charts, and it helped us on that marvellous day of the European Cup final when we played Inter-Milan in Lisbon.
It was a very long walk from the dressing-rooms to the pitch, so we started singing . . . I think we had just about completed the number by the time we arrived at the field. I am very proud to have been a member of that European Cup-winning team. Players from all over Britain had tried for so long to conquer Europe . . it was a wonderful honour to have been a member of the team who finally achieved the break-through.
I have always believed that the basis for success of that European Cup campaign was the five-week close-season tour we made of America. We had never been together for so long. We played all kinds of opposition, from matches against Spurs and Bayern Munich to local opposition . . . and we were undefeated. But the major advantage was that we hammered out a playing formula that was to take us to Eur0pean glory.
For me the strength of that European Cup-winning side was in its backbone. If you looked down the spine of the side we had experience where it mattered. We had Ronnie Simpson in goal, Billy McNeill in the middle of the defence, Bertie Auld in midfield and Stevie Chalmers and Willie Wallace in the centre of the attack. The rest of us were a bit younger so we could all run about" I better not say they did not run about or they will rise from their wheel-chairs to clobber me-but that blend of experience was the lynch-pin of the side. We all wanted to play for each other as well.
If someone hit a long ball upheld there would always be at least one player who would chase it to try to create even a half-chance. I don't think anyone was jealous of anyone else. I played number 10 or 11 at the time, and if I was left-winger that usually meant John Hughes would be left out the team. But he would be right into the dressing-room to shake my hand and say "all the best, wee man-do your stuff'. Everyone was the same, it happened on the other wing when sometimes Willie Wallace-or 'Wispie' as we called him-would take over from wee Jimmy.
You cannot live on memories in football, but I do look back with a special nostalgia to 1967. Principally, of course, for the European Cup. But also because that year I was in the Scottish team which beat England 3-2 at Wembley . . the first defeat for them after winning the World Cup. Teams can be planned for months or years, but sometimes maybe without all that much effort ....everything clicks . . . and that's what happened in 1967. There were some really great names in that team, and I have never known the Anglos in the team so determined to win.
Don't let anyone kid you that just because a player is transferred to England he still loses sight of the fact that he is a Scot. I think if it's possible they were more desperate than the home Scots for a victory. Because England won the World Cup they had to put up with so much stick from their team-mates in the various clubs , that they were really bursting for a win.
We went to 'Wembley for the usual look-around on the Friday before the game, and the big score-board naturally registered 0-0. I was standing next to Chelsea's Eddie McCreadie, who was then our left-back.
He turned to me and said: 'If that's the score tomorrow I'm going into Stamford Bridge on Monday with my Scottish strip on.' As we went one better and beat England I often wonder if he did it! I still bear the scars of that game, for I have a trace of stud marks on my knee caused by a tackle by England centre-half Jackie Charlton.
Frankly I was lucky to escape without a serious injury. Billy Bremner has since told me that they have a photograph of the incident at Leeds. It shows Charlton's boot making contact with my knee and I should have come out of it with a shattered knee cap. But instead it was the big Leeds man who came off worse, for by a lucky freak for me there was a flaw in one of his studs.
It cracked, and went up through his boot and broke his toe. But the film of the game sometimes makes me feel my age. It was before the four-step rule for goalkeepers was introduced, and it shows Ronnie Simpson-Scotland's keeper that day charging about with the ball on the eighteen yard line.
1967 also reminds me of one of the blackest moments in Celtic's history, the ill-fated World Club championship match with Racing Club of Argentine . . . and I was one of the players ordered off, the only time in my career I have ever been sent off. In fact, the only previous time I had been in trouble with a referee was a booking I once got in a reserve match.
I remember in that play-off match in Montevideo as I trudged off Mr. Stein could not believe it. He shouted at me that there must have been some mistake and to get back on the park. And again I was sent off. It turned out, for some reason to which only the ref, knows the answer, that just before he had warned Billy McNeill that the next tackle he considered illegal from our No. 6 or No. 8 would result in a sending off . . . and I just happened to be No. 8 that day.
I am afraid it illustrates the farce to which the level of the game had fallen, but at least I was exonerated when the S.F.A. Referee Committee finally investigated the whole unhappy affair. When I was younger I thought 29 or 30 was old. I really did look on it that way when I was around 21. Now of course I've changed my outlook, for I feel as fit as ever. I've always tried to keep myself fit. You get trained hard at Celtic Park anyway, but if I don' t play on a Saturday, I tend to go out by myself on a Sunday. And I still like to score goals. It all depends on how the gaffer says you have got to play. If Mr.
Stein says you've got to play wide on the wing then there's obviously not a lot of chances to score from there.
I don't find it difficult to adapt from one role to another. Mr. Stein says how we play, and we all try to follow. Anyway, I've grown up with the gaffer, I didn't start playing with the team until he came.
It's nice to be in a pool of players getting money. But I admit that it's nice to see your name in the papers, there's a wee bit of glory attached to it. I've been fortunate at times when I've been playing badly, and maybe sticking a goal in.
That's probably luck as much as anything else. Like all goal-scorers I tend to remember the ones that got away, just as much as the ones I scored. And top of my list of goals that did not count was the last-minute score I notched against Liverpool at Anfield in the 1966 European Cup-Winners Cup semi-final. That was chalked off for offside, although two Liverpool defenders, left-back Gerry Byrne and goalkeeper Tommy Lawrence both agreed there was nothing wrong with it. And, of course, that disallowed goal would have been good enough to have taken us through to the final.
I suppose the modern image of footballers has changed a great deal from when I started first of all. Now the public seem to think it's a constant Whirl of birds, boutiques and booze . But I would like to try to straighten the record a bit.
Frankly a big night out for me is a night at the pictures. I'm a great TV fiend, and it would take an earthquake or a game to move me from the telly on a Monday night and my favourite Western 'Alias Smith and Jones'. I've even got two TV sets in the house. Because I stay on the Ayrshire coast it means I can pick up the national TV sports shows which are beamed to Ulster , and watch the Scottish ones at the same time . It's well worth it ..... especially if i can see Celtic scoring on two different programmes at the same time !
Playing For Celtic No.5 by Rodger Baillie
Submitted By Lizardking Randalstown Hoops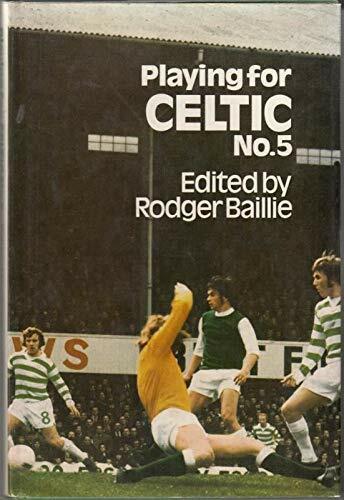 Posted by
voc1967
on
Thursday 26 November 2020 - 15:40:07
| Comments (0) |
Online
Guests: 22
Members: 0
Newest Member: Boon
Most ever online: 209
Guests: 209, Members: 0 on Thursday 16 January 2020 - 15:08:27
Chatbox
You must be logged in to post comments on this site - please either log in from the Login box or from
here
.
Lizardking
Oh what a beautiful sunday
hooperman
HH Bhoys/Ghirls
voc1967
PintsMcL did you bring me a bar of rock ?
PintsMcL
HH guys, jet lagged to fuck but finally got signed up. Niall.
Lizardking
HH
Bart67
Hail Hail
voc1967
Still lots to do on the site but glad your here .
Suzy
Hey good to be here..
voc1967
Welcome to Randalstown Hoops